Makgadikgadi Moonlight Adventure 2020
One of the highlights of my year is Muddy Face's Makgadikgadi Moonlight Adventure which is happening on 3 – 5 July 2020 and this year is going to be bigger and better than 2019 and the years past.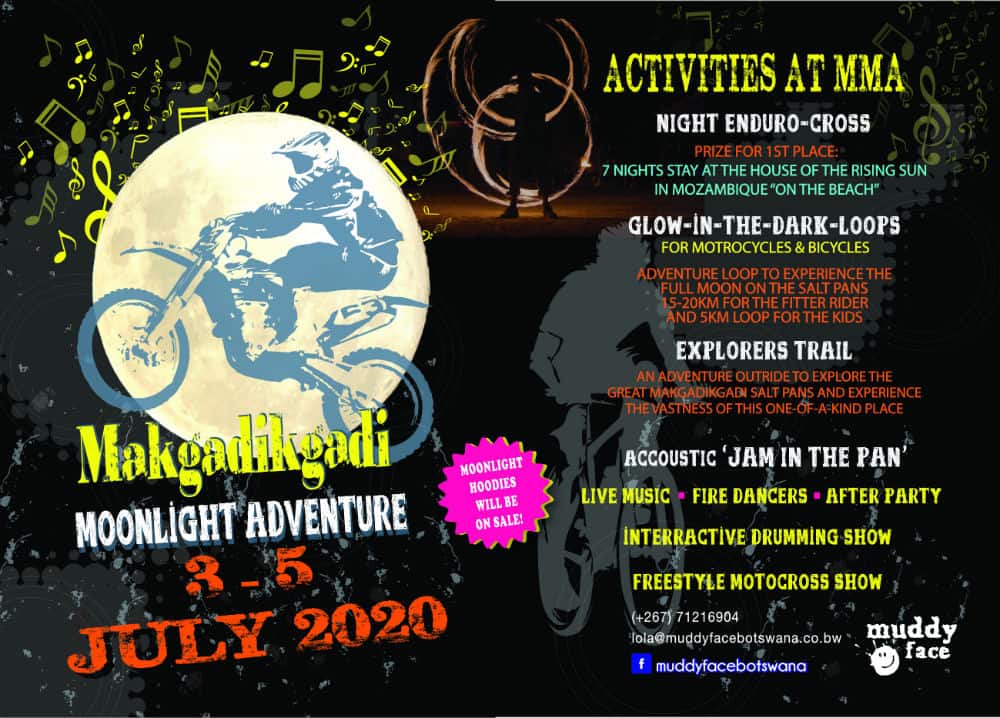 As I wrote the 2019 event was epic and after speaking with the organisers, they are doubling their efforts to make this year the best ever.
Here are some of the highlights for this coming event
2020 Festival Highlights
Stunt shows
Glow in the dark moonlight loop
Interactive drumming
Jam in the pan
Adventure trails
Cycle adventure
Kiddies track building competition
After dark activities
and more…

What to expect in the desert
Toilet and showers are available

Days are hot and nights are cold

Bring along your GPS for the treks

Food facilities are available

Bar facilities are available

Party all night long

Busy bikes

We have swipe facilities

Hoodies and other apparel will be for sale

No cooler boxes in the entertainment arena

Cellphone signal, on and off
Why people love the Moonlight Adventure
It is an event for the adventurous, with wild open spaces and where dust turns to slick.

The event is family orientated and we loved the bonding and interacting with fellow campers and riders, making friends for life.

We loved that we could ride all day long and all night long, without any race pressure.

The adventure treks were character building and fun.

Our kids were able to ride in a safe environment, they were free to build their own turn tracks and they too spent hours and hours riding and sharing their creations with their family and friends.

We came to enjoy the relaxing atmosphere away from racing pressures and LOVED every moment.
Below you can find my guide or review of the event…
Here is a hint. It was great!
Motocross festival in the salt pans of Botswana 2019
A couple of weeks ago (13 July 2019) I attended a festival in Botswana and it was not your normal music festival. It was a festival revolving around motocross, yes there was music 🙂
The festival: Makgadikgadi Moonlight Adventure
I got wind of this event through a couple of mates who have been doing the music for the event for the past 3 years and after speaking to them about it, it sounded like a great way to speak a long weekend.
What made this festival so appealing is it was an adventure to another country and it was closer than travelling from Bulawayo to Victoria Falls.
The festival was in the Makgadikgadi Salt Pans, somewhere I had never visited before. Somewhere new and exciting where one could meet new people and experience something new.
Game on…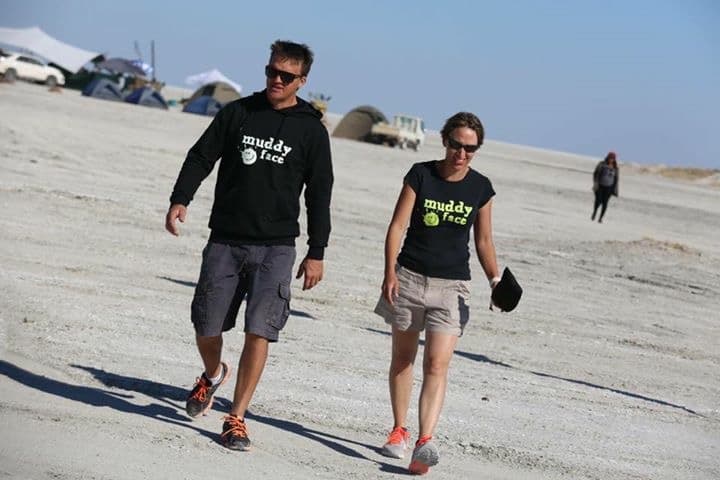 Who is Muddy Face Events?
Ross Branch and Lola Berrie are the formidable team that organise and manage Muddy Face Events.
Ross has 20+ years of racing dirt bikes, initially starting in motocross and now in off-road racing as well. He rides for the Red Bull KTM Team in both these disciplines. His years of experience on dirt bikes ensure that the events put on by Muddy Face are always safe, and offer the WOW factor.
On the administration and marketing side of Muddy Face, Lola has had over 15 years experience in this field and offers somewhat unique ideas that come together to showcase Botswana in an experience never-to-be-forgotten.
Get to know them better:
A simple journey getting there
We set out not really knowing what to expect and with that, we (me and Dj Jasper) did not really prepare for what was coming.
We packed simply, what did we really need but food, bedding and a couple of drinks to keep us hydrated while we watch motorbikes turn money into noise.
All we were given were some GPS markers and told to get there, after all, the end of the journey was on the salt pans and I will say this, we did not get lost. We made it there pretty unscathed and at a reasonable time.
As soon as we started getting close we could see the tents in the distance.
A mate, Zuga, was doing the Bedouin tents for the festival. His company, Africa Sun is a  Zimbabwean company for anyone who is interested in using his tents in the future.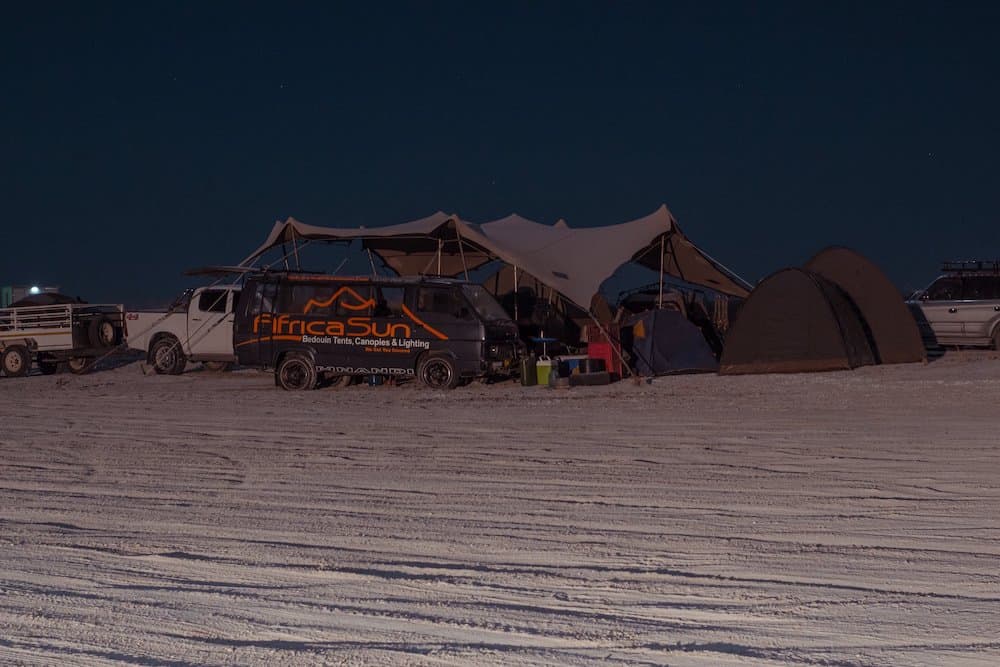 Taking it all in
As soon as we arrived, we started to absorb what kind of festival it was going to be. The main tents were up and the bar and food area were finalising what they were meant to be doing.
Not far from us, we could see toilets (portapotties) being set up as well as a makeshift shower area with 4/5 Jojo tanks being heated by a donkey boiler.
We were not ruffing it… yay!
The music was almost done, we could hear them testing the speakers making sure it was ready to pump the tunes.
Motorbikes and 4 wheelers were riding all around us as we sat enjoying a refreshing beer.
The one thing I remember from that day was the dust. It was not like normal dust but it was dry. You could feel the salt in the air.
Excitement all over the place
As more and more vehicles arrived with their bikes and 4 wheelers, a real atmosphere started forming, there was excitement in the air.
The evenings were filled with people hanging around the main area where they would eat, drink and dance till the early hours of the evening.
The organisers, Muddy Face Events, put a lot of thought into the activities and entertainment for the festival-goers outside of the main motocross event.
Some of the highlights that I can remember:
Journey to Kubu Island
Fire Dancing
Dj's
Acoustic session under the full moon with the band
The main event…
The main reason for the Moonlight Festival is the motocross race. People came from far and wide to take part in this event and with very good reason.
I believe the winner won a 10 day holiday in Mozambique. (Hope I am correct in the statement but was a prize worth winning)
The route was short but there were some challenges for the riders, sharp turns, dugouts down one section of the course and jumps that gave riders some hassles.
The racing format was the "winner proceeds" and you had to win to progress.
For someone who does not know much about the motocross world, it was damn interesting and a lot of fun to watch.
Here are some images of the motocross…
Makgadikgadi Moonlight Adventure Conclusion
Firstly, I would like to say well done to Muddy Face Events for a well laid out festival. A lot of work/effort went into putting the whole event together. Job well done.
As festivals go, it is up there and it is something I intend on going back to and the next time, we need to do it bigger and better.
My recommendation
If you are one for adventure and something different, I highly recommend coming to the 2020 Moonlight event.