Tokwe Mukosi: A future iconic fishing destination in Zimbabwe!
You are hearing this correct. The Tokwe Mukose dam is going to one of the most visited bass fishing dams in Zimbabwe, actually, let me correct myself. The dam is going to be one of the most visited dams by all types of visitors.
I recently went on a fishing excursion to Tokwe Mukosi and I was blown away. It has to be one of the most stunning dams in Zimbabwe.
The two rivers and the dam are surrounded by beautiful granite mountains which offer beautiful scenery for visitors and fishermen. There is nothing better than fishing off a boat and lifting your head and seeing nature at its best.
I will also like to note that the sunrises and sunsets are breathtaking.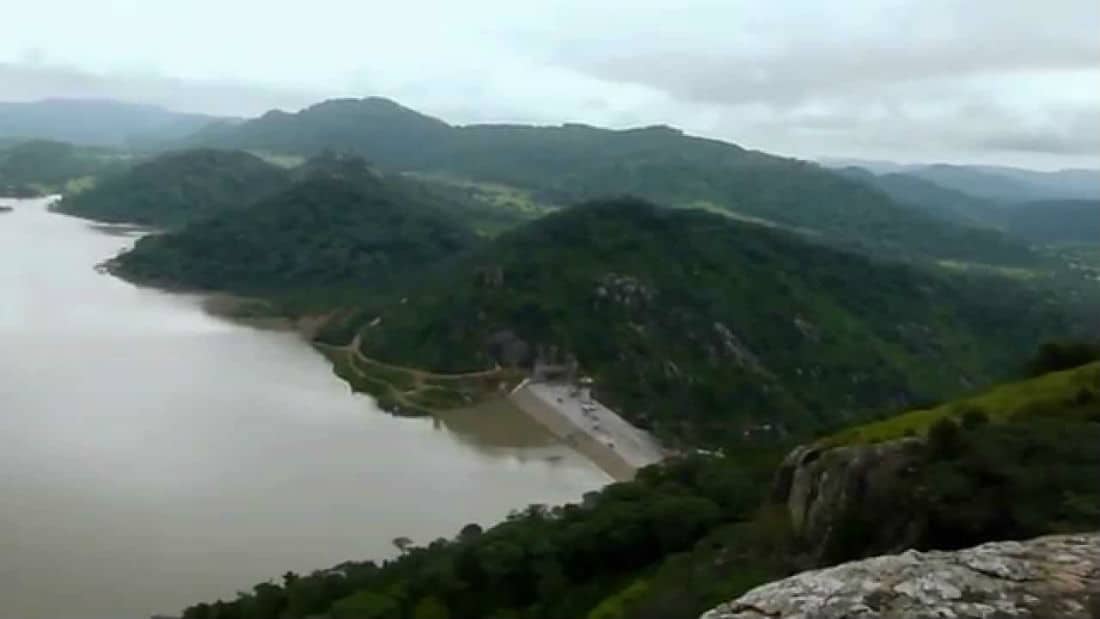 Fish at Tokwe Mukosi Dam
I have tried to find out when they started to introduce fishing to the dam and I get very different dates and information.
What I can tell you is Zimbabwe fishermen have been stocking the dam with Bass for more than 6 years (I get as far as 10 years).
Whether this is true I am not sure but what I can deduce is it has been stocked with Fingerlings and fish between 1lbs and 4lbs.
I am also told that you will be able to catch bream fish as well as barbel.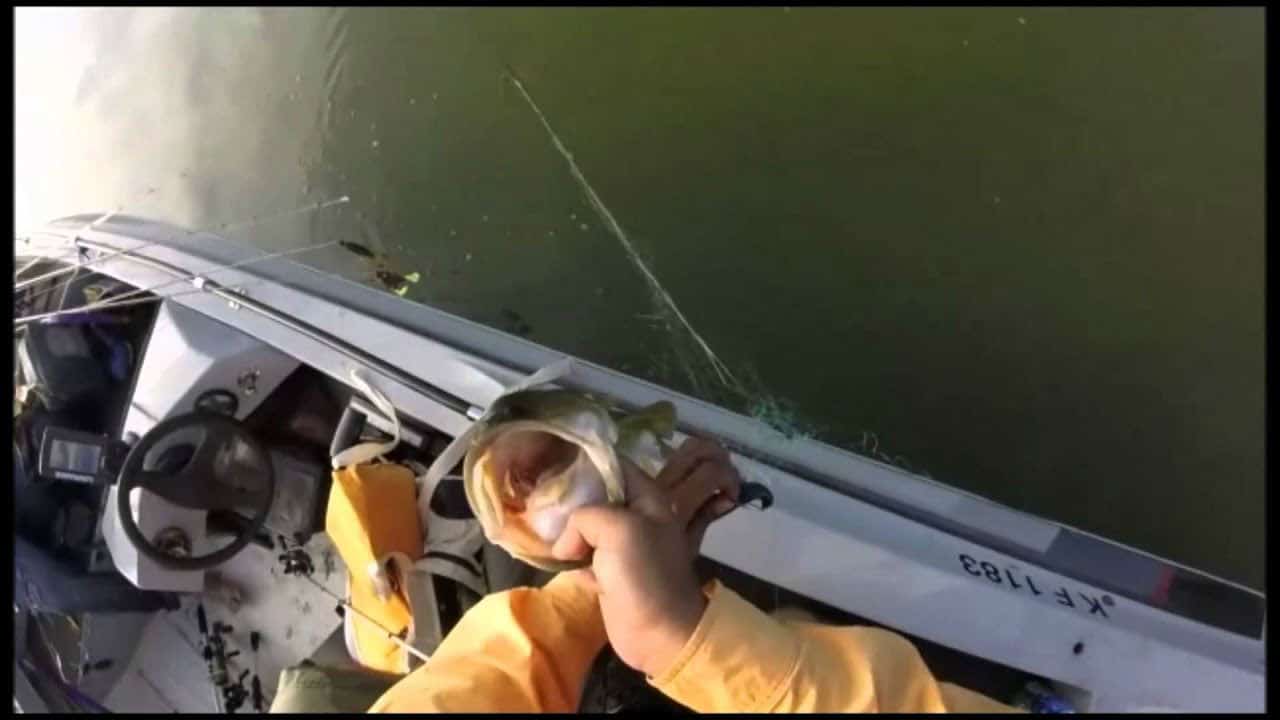 Bass Fishing at Tokwe Mukosi Dam
I am very new to the whole bass fishing scene and I am very much still learning in all aspects.
I first heard about the dam earlier this year but it was only recently that I heard about some beautiful bass caught at the dam, this was, in fact, the reason for us to make the 345 km journey for a long weekend of bass fishing.
On first arrival, I was in awe of the dam and the size of it. Compared to the other bass dams that I have fished it is HUGE and the conversations started… what is the fishing game plan 🙂
We had no plan, the dam was completely new to all of us and there were no "favourite spots". It was a completely new adventure.
In total, we fished for a total of two days (2 x half days and 1 x full day) and during that time we all agreed that we wanted to explore the dam rather than only fishing one section of the dam.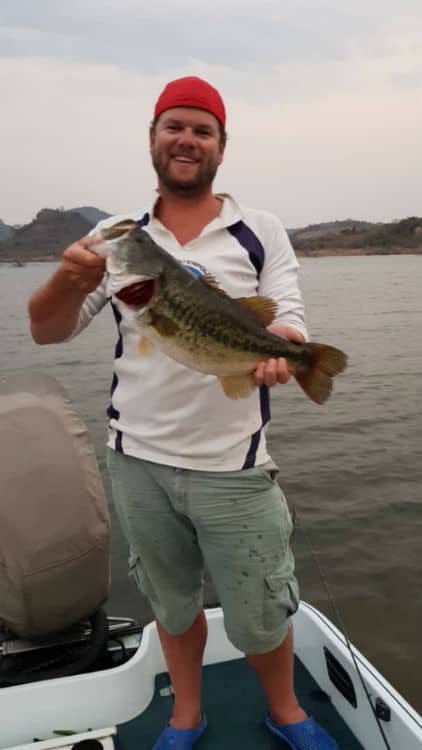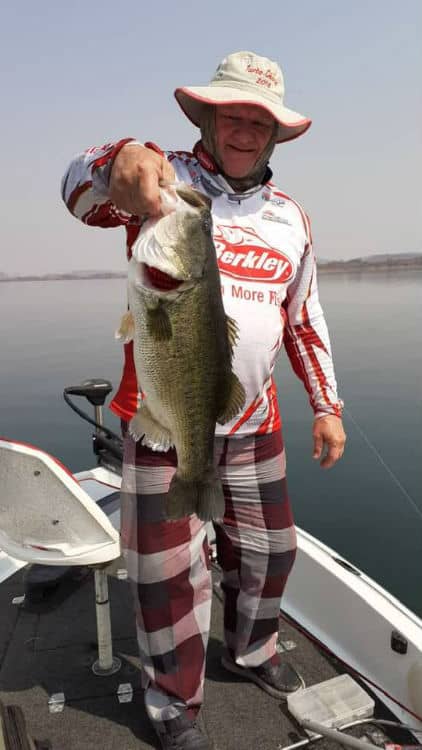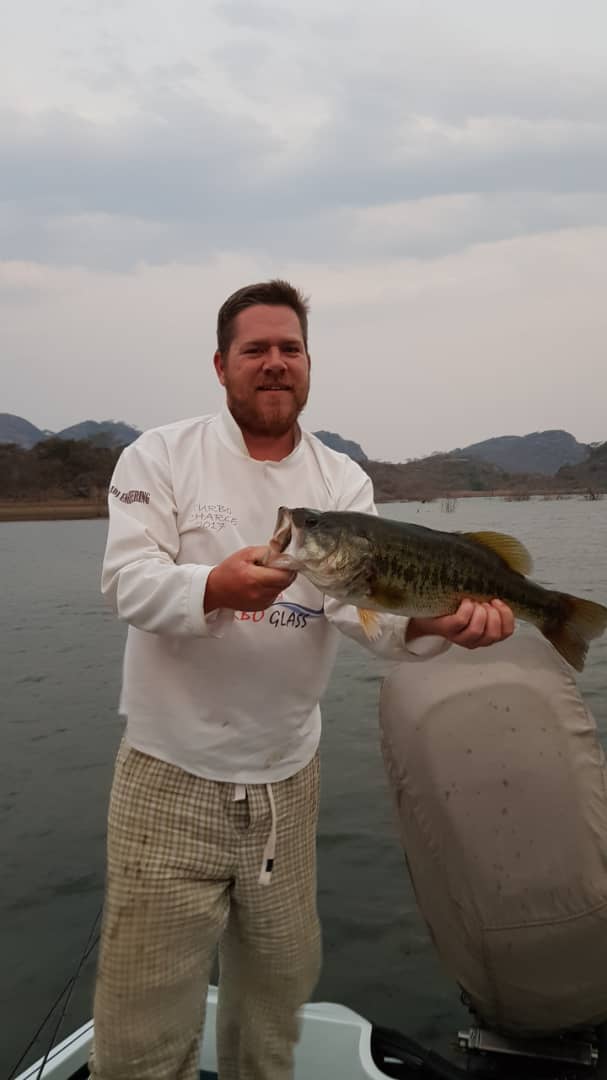 Over the two days, we caught a large number of bass between the two boats in our group (5 fishermen), and the bass varied between a couple of hundred grams to the largest fish (which was mine) that weighed 6.11 lbs.
The fish looked very healthy which is always great to see and my prediction is we are going to see the biggest bass in Zimbabwe coming out of this dam in the future.
Also to note: We practice catch and release and all fish were put back into the dam.
This will fast become a favourite bass fishing destination of ours as well as many fishermen in Zimbabwe and surrounding countries.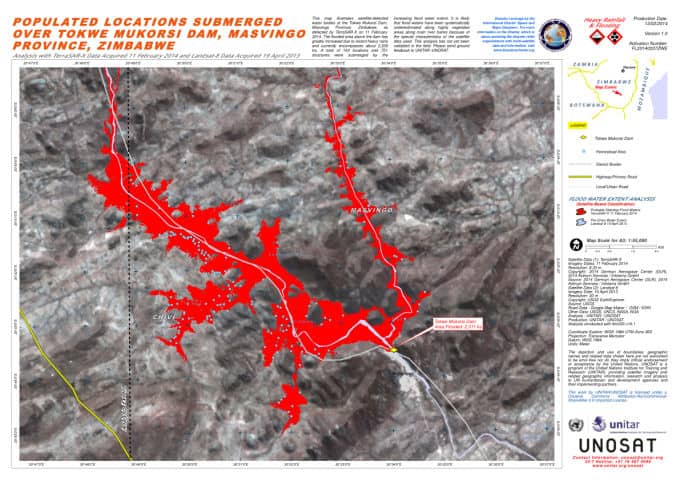 Getting to Tokwe Mukosi Dam
The dam is located in the Southern region of Zimbabwe.
Find the dam on Google Maps
Bulawayo to Tokwe Mukosi Dam: 345 km
Harare to Tokwe Mukosi Dam: 410 km
Beitbridge to Tokwe Mukosi Dam: 214 km
Victoria Falls to Tokwe Mukosi Dam: 782 km
Using Google Maps, the distances are provided by them and traffic on the roads will play on the time to get to the dam.
For us, it took just over 4 hours to get there from Bulawayo. Some of the roads were bad with huge potholes. I will say that the one road that was in bad condition is getting re-tarred and hopefully it will be complete soon.
This definitely will speed up the journey.
Tokwe Mukosi Facts & Figures
Tokwe Mukosi Dam is located at the confluence of the Tokwe and Mukosi rivers, and the dam straddles the boundary of Chivi and Masvingo South districts in Masvingo Province.

With a height of 89,2m and storage of 1,8 billion cubic metres of water, it is the highest and the largest inland water body in Zimbabwe.

As at 17 May 2017, the dam was about 72,38 percent full with a capacity of about 1,303 billion cubic metres.

Compensation amounting to US$9 million is still outstanding for some of the resettled families. There are plans to assist the resettled families with land clearing for them to carry out their agricultural activities.
Possibilities for the dam: 
l cages fish farming in the dam,
l pond fish farming outside the dam,
l Kapenta fisheries.
l large scale crocodile project.
The dam can contribute significantly to eco-tourism projects around the reservoir, these include:
l Self-catering chalets,
l Hotel,
l Conference centre and casino
l Cable car,
l Boating facilities, and
l Game park
l Museum for the construction of the project
l Angling
FAQs about the Tokwe Mukosi Dam
Here are some of the most frequently asked questions on Google about the dam that may be interesting to you.
How long is Tokwe Mukosi dam?
The Tokwe Mukorsi Dam is a concrete-face rock-fill dam on the Tokwe River, just downstream of its confluence with the Mukorsi River, about 72 kilometres (45 mi) south of Masvingo in Masvingo Province, Zimbabwe. Construction on the dam began in June 1998 but stalled in 2008.
Which is the largest dam in Zimbabwe?
It has a capacity of 1.8 billion cubic meters and the artificial basin is over 40 km in length. Tokwe Mukosi Dam is one of the most important steps in the Zimbabwe Government's commitment to meet the present and future water requirements of the Masvingo region.