ZimNinja, the SEO Agency for Zimbabwean Businesses & Websites
Hello and welcome to ZimNinja, my name is Craig Riley and I offer SEO Services to Zimbabweans who are looking to get their websites ranking on the first page of Google for their main search terms.
ZimNinja is known for SEO in Zimbabwe.
I have been offering SEO as a service for almost 10 years now in Zimbabwe and abroad.
We understand that people & businesses, like you, have done the search "SEO Zimbabwe" to find a business that appears on the first page of Google and use it as a showcase of their talents. This is one of the reasons why ZimNinja appears for this search term!
Contact ZimNinja
If you would like to discuss optimising your website, please get in touch with Craig using the below methods.
Phone: +263 777 960 817
Email: craig @ ZimNinja (dot) org
ZimNinja HQ
I am based in Bulawayo and am willing to work with businesses all over Zimbabwe. Enjoy the post. 
Post Updated: 1st December 2021
Total Words: 3577
What is SEO?
Search engine optimization (SEO) is the practice of getting targeted traffic to a website from a search engine's organic rankings. Common tasks associated with SEO include creating high-quality content, optimizing content around specific keywords, and building backlinks.
In other words:
SEO is all about improving a site's rankings in the organic (non-paid) section of the search results.
Why ZimNinja is the SEO company of choice for SEO in Zimbabwe
Honest SEO Advice
I think the main reason why companies come to ZimNinja for SEO is that we provide sound advice and guidance of what actually needs to happen to get websites to appear on the first page of Google.
Transparent SEO
Our SEO process is transparent. Nothing is gained by pulling the wool over a companies eyes just for a dollar. The better we rank your business the longer we will stay in business together.
SEO for the Future
Don't be fooled, SEO is not a quick activity. It does take time for a website to rank at the top of the search results for a variety of keywords. You will most likely only start seeing real results around the third month of SEO.
Local SEO
When it comes to local companies, having a website is only one part of the SEO strategy. We will get your website ranking for your main keywords as well as your
Google My Business
profile for your business.
ZimNinja is a 100% Zimbabwean SEO Company
There is a mentality with Zimbabweans that if you want the best, you have to go outside of Zimbabwe. Which is absolutely rubbish!
I am proud to be a Zimbabwean, I am proud to be living in Zimbabwe and I am very good at what I do, the same will be said about many companies in Zimbabwe.
When it comes to SEO, hiring locally could be more beneficial to you as a business than hiring from another country. With local knowledge and understanding of how Zimbabwe works, we are able to understand the needs of the consumer and better align your website to meet their needs.
SEO as a service is a relatively new concept in Zimbabwe and that is because there has not been a need.
International SEO Experience
For years, I have been optimising websites for businesses in the UK and USA and that is where I do most of my SEO work.
If I am not optimising clients websites, I am building and ranking my own websites in the USA and renting them to local businesses because they are appearing on the first page of Google.
Don't be fooled, a Zimbabwean beating the international SEO companies at their own game in their own country 🙂
Understanding SEO
SEO is one of those skills that is forever changing and that is because Google and other search engines are always updating and improving their algorithms and if you are not on top of the new updates, websites will fall and crash due to penalties.
As of writing this post (18th November 2021), Google is rolling out an update and I am happy to say that the websites that I manage are all improving in the rankings.
I am fortunate to be a part of some amazing SEO circles that allow us to talk and discuss ways of improving the rankings of websites with techniques that actually move the SEO needle.
It's the groups that I am in that allow me to make a real difference because we are using cutting edge strategies for my clients.
What Does an SEO Agency Do?
An SEO Agency can help you dive valuable traffic to your website from the search engines like Google, Yahoo and Bing (to mention a few).  This is done through various different methods and strategies.
Below you will find some of the services that we offer that will help your website get to the top of the search engines.
WordPress Website Design
Web design for SEO is all about creating a well design website using a Content Management System (CMS) and in the case of ZimNinja, our CMS of choice is WordPress. Building a beautiful website is not the only thing that we will do for our clients.
Through the design process, we optimise the website of site speed. A customer is more likely going to spend more time on your website if it loads quickly. Slow website speeds will dramatically reduce your traffic and rankings. * Site speed is now a ranking factor for Google.
Your website security of very important and all steps are taken to prevent hackers from compromising your website.
All website designs with SEO in mind should be responsive! That means the website will constantly change depending on the device it is being viewed.
Link Building
What is link building?
Link building is the practice of building one-way hyperlinks (also known as "backlinks") to a website with the goal of improving search engine visibility. Common link building strategies include content marketing, building useful tools, email outreach, broken link building and public relations.
Link building is a very important part of SEO as internal and external links can help generate traffic for your website.
Inbound links are absolutely valuable in SEO since links are one of Google's highest-ranking factors. This has been proven over and over again by SEO professionals around the world and it has also been let slip by a Google employee. 
Links are the currency of the internet when it comes to SEO, as they act a lot like a real-life reputation signal for a website. Each link that you receive is a signal to Google alerting them to the relevancy of your website.
Side note: there is such a thing as a good backlink and a bad backlink. Not all links are created equal.
Content Marketing
Content Marketing is as important as a well design website when it comes to SEO and the goal of getting to the top of the search engines!
When an SEO strategy is being created, every aspect of content marketing is involved. There are three main areas of content marketing that will determine the SEO success of a website, these are keywords, quality content, and user experience.
Keyword Research
Keywords are an essential component of SEO. It is absolutely vital for an SEO expert to acquire relevant keywords and incorporate them into their content in order to rank higher in SERPs. The best SEO agencies will work with a combination of keywords that are trending for a particular topic. This increases the chances of generating traffic through spillover.
Quality Content
Fresh, original, and creative content are the properties of a page that ranks high in search results. Poor quality, repetitive, and inconsistent content will get your website nowhere in terms of page rankings. The content of a website must be evergreen and be able to attract and entice readers. Inserting keywords seamlessly into the content of a website is vital. In fact, this is the most important property a post must have in order for Google to determine the relevance of your website.
User Experience
Quality content isn't all about how well you deploy your keywords, craft articles, and write blogs either. It's also about enhancing your search snippet accordingly. This is the technical aspect of optimizing a website to appeal to search engines instead of consumers.
Unlocking the power of Google
Zimbabwe is about 10 years off the rest of the world and that is not a harsh statement. The majority of businesses in Zimbabwe do not even have a website. 
By taking charge of your company SEO now, you are putting yourself at the forefront of being the number one company in your field which will only deliver you new leads and customers on a regular basis. 
There are many studies affirming that organic search is the best way to become a part of consumers' online experience and this is evidenced by over 93% of online conversions beginning in search.
The History of SEO
As I mentioned earlier in the post, SEO is constantly changing with new algorithms and updates to enhance the user experience. 
Below is an image that shows you the journey of SEO and how the landscape has dramatically changed.
If you are not at the top of your game you are on the verge of damaging a website!

SEO in Zimbabwe: An Overview
Zimbabwe is a country that is about to experience huge growth when it comes to SEO and digital searches.
With the rise of online searches for products and services, businesses are starting to take their companies online to showcase themselves and this is where SEO is going to become a sort after service.
In a country with such vast space between cities with a relatively low population, Zimbabwe-based SEO companies like ZimNinja can greatly aid local companies to gain exposure and local consumers to gain easy access to a multitude of products and services.
Availing SEO services in Australia for your local business will be truly beneficial as people searching for products and services online are rapidly growing. The growth of e-commerce is on the rise but with the current situation with Zimbabwe's finances online transactions can be tricky but there are companies appearing that are going to be a force to reckon with. 
This compelling evidence of increasing online activity only strengthens the need for companies to invest in SEO strategies in order to stay competitive in their respective industries.
SEO in Harare
With Harare being the capital of Zimbabwe and the largest city in the country, it is normal that there will be more companies offering digital services with the majority of them offering website design and only a few companies offering SEO as a service.
Now, I am not sure of the quality of the SEO as I have not dealt with any of the companies but if you are going by a search for the "SEO in Harare", there are a few companies that stand out to me like they know what they are doing with their own websites.
Over the years, I have worked with Harare business and I have taken their websites to the top of the search results for their keywords but nothing recently due to COVID 19. 
I will be offering my SEO services in Harare in the new year as I believe there are companies that are needing my services.
SEO in Bulawayo
Bulawayo is the second-largest city in Zimbabwe with some really good companies offering website design services and I have had the pleasure of working with a few of them. 
When I do a search for "SEO Bulawayo", I see results for myself using different websites and websites from other countries. 
If you are looking for SEO services in Bulawayo, get in touch. 
Zimbabwe SEO in 2022
With the frequent changes to the algorithm and SERPs, it can be difficult to see the forest for the trees. However, the new year is the perfect time to reflect on past trends and plan for the future. Here are four key areas to focus on in the years ahead. First, content quality is the most important factor for achieving higher SEO rankings. Second, content and E-A-T scores are major ranking factors. Third, make sure your website meets all of these criteria.
While content is still important, it has changed dramatically over the last few years. In 2022, the content will be the main issue. Users will be searching for more information than ever before. It is important to provide useful, relevant content for users. Regardless of the form of content, SEO will still be relevant and beneficial. Here are some trends to keep an eye on in the coming years. For example, voice searches will continue to increase in popularity, with more than 60 languages represented.
Next, SEO is changing. It is now the central element of any digital campaign. In addition to the importance of content, enterprise SEO is making a step-change in the use of technology. It is no longer the time to conduct lengthy experiments or testing based on theory. Instead, SEO is now being used to improve business results and make marketing easier. The evolution of search engines has changed the way people search, so content is king.
Moreover, the evolution of the search engine landscape will continue to impact the way that marketers and website owners conduct SEO. Several new strategies will emerge to keep pace with these new developments. Those that are already in place should be implementing them now. For instance, ethical link-building, mobile usability, and voice technology are all key areas to focus on. Taking advantage of these trends will help businesses stay competitive. This article has outlined some of the most important SEO trends for the next several years.
In addition to the above, the Google Page Experience Update is another major factor for SEO in 2022. It will affect page speed, bounce rate, and unexpected shifts in layout. By using the website audits, you can find out what is wrong with your web pages and address them accordingly. In addition to these factors, the E-A-T factors will also impact how search engines view your brand. In short, a strong SEO strategy will consider these issues and address them as quickly as possible.
The biggest trend to watch in the year ahead is the rise of time-sensitive searches. In fact, a significant number of the search queries that people make are time-sensitive. This means that the content you create must be updated to adapt to the ever-changing demand. Similarly, your website needs to be able to provide a great experience for visitors. To make it a worthwhile experience, consider these trends and prepare for Zimbabwe SEO in 2022.
Search Engine Optimisation FAQs
Below you will find some commonly asked questions regarding SEO. 
Do I Really Need SEO?
Short answer: yes, yes you do.
Why? Picture all of your website visitors as a massive pie. For the average website, 50% of that pie will come from search engines like Google.
Search engines are a discovery tool, meaning that many of these website visitors are discovering your website for the first time. As more and more people discover your website from search engines, you'll see each other traffic channels (email, social media, etc.) increase as well. In other words, as this part of your pie gets bigger, the rest of your pie will get bigger as well.
Does My Business Need SEO?
Yes, your business should be investing in SEO. Search engine optimization offers a way to increase traffic without paying for each and every click.
When you run PPC ads, you'll be charged for every single click that comes to your website through that channel. However, if your website ranks organically on the search engines, this traffic is essentially free (at least in terms of a cost-per-click). Of course, it takes investment into skills and resources to rank a website on the SERPs.
How long will it take my website to rank in Google?
Every website is situational. Within each industry, the level of competition will vary. The ability to rank in Google depends how relevant and authoritative your site is. This is earned over time. For sites with poor topical authority, backlinks, architecture, trying to be found for queries with purchase or transactional intent will take many months. Search algorithms evaluate how relevant a website is to the query but also beyond it. Additionally. they look at the overall experience it will provide to users.
To build an authoritative website requires extensive planning and research.
For sites that are ranking poorly, the size and complexity will also factor in. The severity of issues will determine how quickly the ship can be righted. A website could conceivably start seeing improvement and ranking in Google as early as two to three months. Typically traffic increases over time. Once rankings are achieved, they must be maintained.
Some of the ranking factors are:
Backlinks
Content Relevancy
Keyword In The Title
Page Speed
Website Architecture
For highly competitive industries, it's not uncommon to take up to (1) one year to rank for keywords. One example would be a site with low authority trying to rank for "New York lawyer".
Think about it.
If a competitor's site is 10 years old and ranking in the top 3, it has historically provided what users are searching on. It's likely this organization has spent resources to stay there.
What is an authoritative website? It's one that other sites link to because it offers value but moreover because it provides the best answer for what someone is looking for. A great site provides answers to questions irrespective of the reason for visiting.
If you're trying to rank your business locally, find someone who understands Google's local algorithm.
Does traffic affect rankings?
Sort of.
Again, algorithms will determine what has caused a spike in traffic before assessing whether this is a signal that your site has something users are finding to be valuable. Did an authoritative site share a piece of content you created which resulted in a bump in referral traffic? Or was it a load of bots or spammers that have been paid to Google your business over and over and over again and click the result to artificially inflate the traffic to your site?
Exactly how much traffic affects rankings will never really be proven, but there are a few case studies out there that suggest there is perhaps some correlation.
How Do I Improve My Website's Authority?
The best way to improve your website's authority is to get other authoritative websites in your industry to link to your site.
Google looks at the other websites that link back to you as the strongest signal that your website is trustworthy. Google looks at how many backlinks you have and how trustworthy these websites are.
Think quality over quantity here. One link from the New York Times will help your website rankings significantly more than a link from 50 brand new blogs (more on some of our favorite link building techniques here).
Should I hire an SEO company that guarantees rankings?
No. This is a scheme to lure uninformed clients. They will say something like "$499 a month on the first page of Google". Many of these unscrupulous companies have put a black eye on the industry.
There are variations on these snake oil pitches.
What's worse is that these companies either violate the search engine guidelines or fail to produce results. Often it's both.
No reputable SEO company will guarantee rankings. Google's Webmaster Guidelines states this.
Organic rankings fluctuate daily. Check your average position via Google Search Console and you'll find many terms with avg. position 1.5. 2,5, 3.0 etc.
High rankings don't guarantee sales. You could be targeting the wrong traffic.
No. 1 rankings are achievable, however, that's not what you should be hiring for.
You should hire an SEO Agency to drive qualified traffic and not rankings.
NOTE: Search engines will penalize websites that attempt to game the system by manipulating results.
Why does SEO take time before you see the benefits?
SEO takes time because there is no longer an easy way to game the system. Search engine algorithms have become more and more advanced with an emphasis on delivering users the most relevant, and highest quality results based on their search query.
Whereas when SEO began all it took was stuffing a webpage with your chosen keyword and pointing as many links as possible to it to see fast results, things have changed – drastically. And deploying tactics like this in 2019 are likely to be doing far more harm than good in the long term.
What is on page SEO?
On-page SEO relates to any action taken on the website itself to improve performance. This includes:
Using optimised content that contains target keywords (including meta, headers, images)
Making sure that the site is accessible (can be crawled and indexed by search engines) and can be easily navigated by users
Using internal links (in menus, body copy, and breadcrumbs to aid navigation)
Ensuring that a website loads quickly
Keeping crawl errors to a minimum
Having a site that is optimised for mobile
Not having duplicate (same content on more than one page), or thin content (low word count), or making sure these pages cannot be accessed and indexed by search engines
Suggest Reading
We have a number of posts revolving around SEO & Digital.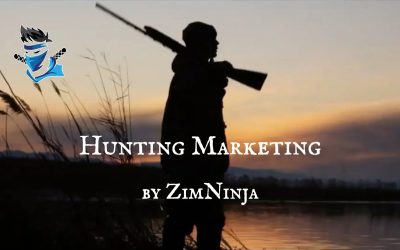 Online Marketing for Hunting Companies Do you own a hunting company? Do you want more exposure to generate more customers for your business? If you answered "YES" to either of those questions, then...
ZimNinja (Web Design & SEO)
Fifth St, Harare, Zimbabwe

+263777960817

53M3+32 Harare, Zimbabwe

Place ID – ChIJea8Z5B2lMRkRXhaAjAjz3w0